Cross Cultural Music, Song & Dance on the banks of the Bann.
The Rapparees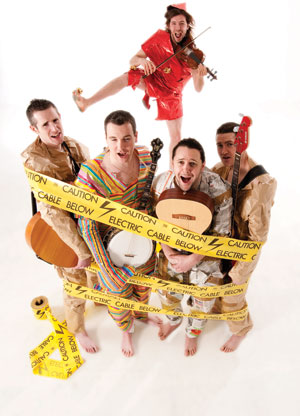 The Rapparees are a five piece folk band based in Belfast comprising of Gerard McNeill, Joe McKeague, Damien McErlean, Conor McCaffrey and Kevin Mawdsley.Their album Clarity, released in 2008 was very well received in Ireland and abroad and they have been busy promoting their music ever since.Their exciting mix of contemporary self-penned songs as well as traditional songs and tunes has led to rave reviews along the way. Hotpress Magazine described them as, 'a welcome surprise' and Folking.com commented that their album, "'Clarity' is possessed of a great deal of spirit, and this spirit is enforced and elevated by some terrific playing".
Over the last few years the lads have established an international profile with headlining performances in France, Norway and Scotland.In January 2010 they were signed by Germany's premier Celtic music agency, Magnetic Music, joining the ranks of the likes of 'Solas', 'Beoga', 'Carlos Nunez' and 'Dervish'. In Ireland, support slots with Shane MacGowan and Cara Dillon as well as performances at the 'Ballyshannon Folk festival', 'Celtic Fusion' and 'Gig'n the Bann' have ensured The Rapparees a thriving following at home.
Having been described by Irish Music Magazine as "one to watch" for the future their eagerly awaited album, "Wrapped up" was released in February 2011 and was produced by renowned multi-instrumentalist Liam Bradley of Beoga.
This is 'The Rapparees' third visit to the festival, a testament to their huge popularity.
---
---