Cross Cultural Music, Song & Dance on the banks of the Bann.
Sean Keane 2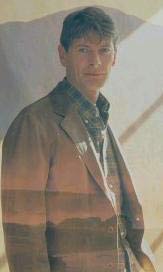 Diversity is the name of the game for Seán Keane - For the fifth year running he has been voted Best Male Folk singer by the readers of Irish Music Magazine - no mean feat. He was chosen Best Contemporary Male in the Irish World Awards in London and was nominated for a Meteor Award in the Country music section. His first solo album, `All Heart No Roses` was chosen as Folk Album of the Year by Q Magazine. All of this aptly reflects Sean's music. Audience favourites include a range of material such as the Beatles' song 'Blackbird', Sonny Curtis' country song `No Stranger to the Rain`, Brendan Graham's folk song `Isle of Hope Isle of Tears`, the blues number `Killing the Blues`- and when Sean does a capella performances of traditional Irish classics like `Stór Mo Chroí` you can hear a pin drop.
There is no way of mistaking the unique voice of Seán Keane and his new album 'Valley of the Heart' delivers a range of material which showcases it at it's very best. There are twelve tracks on the album which cover much ground. Brendan Graham wrote Zuider Zee, a haunting love song with a story. There are three songs from John Spillane - `Valley of the Heart`, from which the album takes it's title, an up tempo number on which Mairitn O Connor does his special magic with the accordion, `The Only One For Me`, also a new song and about to become a folk classic, and `The Land You Love The Best`, a folk song with an immediately unforgettable melody. The American songwriter Kristen Hall wrote the ballad `Million Years`. Other ballads are `Bells` and `One Day I Walk`. `Look Heart No Hands` is a country song and the single from the album. `Good Love after Bad` is also country, written by Guy Clarke. `Sea of Freedom` is a folk/country nugget by Canadian songwriter James McCandless and `One Girl Cried` a ballad from well known Irish-American Tim O'Brien. The final song on the album is a traditional classic .It is performed as a duet with Maighread Ní Dhomhnaill, the fine traditional singer from Donegal. This version is bi lingual and the voices combine to make it sound stunning
This is a really great album with many new songs and a sound which is big in places without becoming sweet. Producer Arty McGlynn has worked with Sean many times before and the empathy between them always brings the best out in the songs. The backing musicians are: Nollaig Casey on fiddles, Arty McGlynn and John McLoughlin on guitars, James Blennerhassett on upright and electric bass, Mairtin O Connor on accordion, Liam Bradley on drums and backing vocals and Seán himself on whistles. It was recorded in Sun Street Studios, Tuam.
---
---