Cross Cultural Music, Song & Dance on the banks of the Bann.
Providence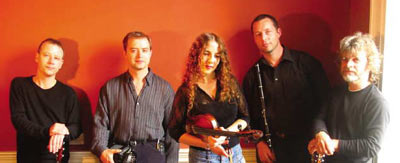 Providence are an exceptional and highly respected traditional music band from counties Clare, Dublin and Meath. They are a well travelled band having toured Europe, Scandinavia, The Baltic States, U.S.A and Canada as well as Ireland. Founded in 1999 Providence launched their debut album, 'Providence', at the 1999 Frankie Kennedy Winter School in Donegal. 'A Fig For a Kiss', their second album, followed in 2001 to much critical acclaim.
With Paul Doyle (guitar/bouzouki), Micheál Ó Raghallaigh (concertina/accordion), Troy Bannon (flute/whistle), Michelle O'Brien (fiddle) and Cyril O'Donoghue (vocals/bouzouki/guitar), 2005 brought the release of Providence's third album, aptly named III, a superb collection of songs, reels, jigs, barndances, polkas and marches.
Siobhan Long - "The Irish Times" commented, "There's enough hearty performances packed into Providence's third album, cannily christened "III", to nourish the neediest of appetites. From the spirit-tingling opening set, this is a marker of a band who have worked hard to create a sound that's all their own, and at the same time sympathetic to what went before them".
Sarah Mc Quaid - "Hotpress" noted that "All three melody players share a solid, steady, unpretentious approach, complemented nicely by bouzouki countermelody and chordal guitar backing."
Individually, the members of 'Providence' are highly respected and talented musicians in their own right as their impressive profiles show:
Cyril O'Donoghue
from Co Clare comes from a musical family with strong ties to the East Clare tradition via his father, Paddy. He has recorded with many musicians including Tola Custy, Michael Queally, The Mulcahy family, Fisherstreet, and Birkintree (Italy). Cyril played in Doolin in West Clare for years and has toured Europe, The US and both the Middle East and Far East with various ensembles. He also recorded a solo album, 'Nothing But a Child', in 2003.
Michelle O'Brien
comes from County Clare. She learned her music at her local primary school where Frank Custy was the principal and taught music to all the pupils. She later went on to learn the fiddle from Tommy and Siobhan Peoples. Michelle began session playing from the age of 13 and was very much influenced by the many great musicians playing in County Clare. She moved to Dublin in 1998 where she still lives and currently teaches the fiddle and plays in sessions around Dublin city.
Micheál Ó Raghallaigh
hails from a musical family in County Meath and has played concertina and accordion from an early age. Micheál's expertise on the concertina means he is in constant demand as a teacher of master classes throughout Ireland and beyond and he has toured all over Europe and the USA. He is a member of the three times All-Ireland winning Naomh Padraig and Táin Céilí Bands. Micheál also has two outstanding concertina albums to his credit, 'The Nervous Man' and 'Inside Out'.
Troy Bannon
, also from County Meath has won many titles in Fleadhanna Ceoil and also in the Oireachtas. Troy has toured the USA, Britain, Germany, Barbados and Canada with various groups over the years playing with such notable musicians as Johnny Connolly, Oisín Mac Diarmada, Brian Fitzgerald and Ned Kelly. Not only is he a well-respected musician, he is also a much sought after as an adjudicator and teacher of master classes on the flute. He is also a member of the All-Ireland winning Naomh Padraig Céilí Band.
Paul Doyle
is the band's bouzouki/guitar player. He is formerly a member of Arcady which included Frances Black, Sharon Shannon and Cathal Hayden. Paul also played with Martin Hayes, the Máire Bhreathnach Band and the Seán Keane Band with whom he toured such countries as Poland, Germany, Finland and Sweden. Over the years Paul has also recorded with many of Ireland's most respected musicians among them Matt Molloy, Paul O'Shaughnessy, Paul McGrattan, Gay McKeon and Arty McGlynn.
John Regan – "Irish Music Magazine" summed it all up when he said:
"The sound is tight and orderly and reveals an outfit that is very much a unified band – there are no shirt-tail riders here………. 'The Gleanntán Reel' captures a gust of energy not seen since the Bothy Band's heyday and 'Leslie's March' highlights their arrangement skills. 'Providence III' finds Providence delivering one of the best Traditional band efforts of 2005 – such is its vitality and collective power."
---
---