Cross Cultural Music, Song & Dance on the banks of the Bann.
Don Stiffe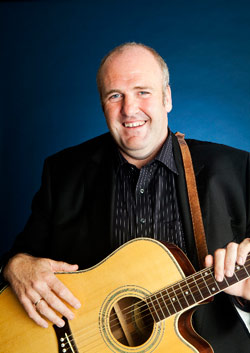 Don Stiffe is one of the most recent singer / songwriters to emerge on the Irish Folk Scene. Don hales from Galway and his singing prowess is up there with the greats that Ireland has produced.
Don's award winning debut solo album, "Start of a Dream" was released in 2006 to critical acclaim. His version of the "Dimming of the Day", by Richard Thompson won Vocal Cut of the Year from the live Ireland 2010 awards. The fantastic musicianship on this album speaks for itself which includes Frankie Gavin, Sharon Shannon, Arty McGlynn, Cathal Hayden and Carol Hession, to name but a few. Four of the songs, "Missing Galway", "Grosse Isle", "The Returning" and the "Banks of the Danube" were penned by Don himself.
Don lived in Boston, USA in the 90's, where he was involved in the Folk Scene. He was a regular visitor to St Louis where he spent time in the company of the legendary accordion player Joe Burke who described him as "The Bard of Bohermore".
Don's passionate singing guarantees a most impressive performance in front of a live audience as those who have seen him perform in Ireland, Europe and the USA will testify.
To his credit Don has played at one of Irelands biggest sporting events - The 'Volvo Ocean Race' in his native Galway in June 2009. In one of the biggest nights of the event he played to an estimated crowd of 50,000 people, appearing alongside artists, 'Sharon Shannon' and 'The Saw Doctors'.
In 2010 Don was invited to play at the Irish Culture Festival in Cleveland in Ohio; Catskills Irish Arts week in upstate New York and the Irish Centre, Philadelphia where he was overwhelmingly received at all of these venues.
2011 was a year to remember for Don as he was one of the finalists in 'The All Ireland Talent Show', one of Irelands most watched TV shows. This entailed many weeks of performing to live audiences of up to 800,000 people. His continued success brought him to guest with Irish American Band, Cherish The Ladies on their summer tour of Ireland and Scotland and also touring 18 States in USA on their Christmas Tour. The band's leader Joanie Madden introduced Stiffe as one of the best singers Ireland has produced in years.
In December 2011 Don released his second album "Life's Journey". One of Don's own songs "Somebody Special", which is on this new album, has recently won an award for song of the year from the Live Ireland Awards, sung by Matt Keane.
2012 will see Don touring Ireland and internationally with his new album. He will also guest with the Kilfenora Céilí Band as a follow up to his appearance on their new album.
A number of Don's songs have been recorded by other artists, 'Grosse Isle', recorded by Sean Keane; Kate Purcell and also the Danish Band, Moving Cloud. "Somebody Special" was recorded by Matt Keane and "Home in Time for Christmas", recorded by Cherish the Ladies.
Don has appeared on other recordings, such as 'Civil War Naval Songs' from Smithsonian Folkways Recordings, Washington DC. He has also appeared with 'Girsa, A Sweeter Place' and was part of the Band, 'Feenish' which recorded 'Rabharta'.
PRESS REVIEWS
The Irish Music Magazine - "Start of a Dream, the musical quality of this album is in the premier league."

The Irish Examiner - "Don Stiffe, has a voice of rare expression and distinctive timbre that deserves to be heard far and wide."
The Irish American News - "When you hear Stiffe sing, you can hear the emotion, this cannot be taught, but Stiffe has it in abundance."
Follow Don's tour dates and obtain information about his fantastic new album, "Life's Journey" which includes musicians Máirtín O'Connor, Cathal Hayden, Seamie O'Dowd and Marcus Hernon to name but a few.
For more information please visit Don's website:
---
---