Cross Cultural Music, Song & Dance on the banks of the Bann.
DJ Paddy Callaghan - Trad Disco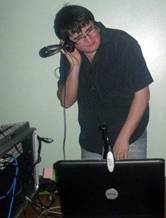 For the first time Gig'n the Bann have introduced a Trad Disco to their impressive programme and we are privileged to have one of the finest musicians in Scotland as the DJ!
Paddy Callaghan from Glasgow started playing traditional music from the age of four, and becoming an accomplished musician he went on to play at gigs and ceilithe up and down the country. A member of the highly successful St. Roch's Céilí band, Paddy is no stranger to Co. Antrim having enjoyed many exchange visits with the Crosskeys musicians. During Paddy's musicial career he started to DJ at the odd ceilithe saving the need to hire two different people for the same event and it was during this time he started to combine the two in the most unlikely way possible! In the past five years Trad Disco's have taken off and Paddy has been at the forefront of this surge. He is now a regular at the All-Ireland Fleadh and also one of the biggest Scottish music events, 'The Scots Trad Music Awards', where ironically this year he was supported by one of the bands that inspires many of his eclectic music mixes!
---
---