Cross Cultural Music, Song & Dance on the banks of the Bann.
Danú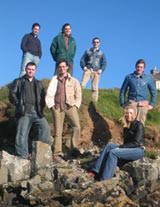 The beating heart of Irish music is, as it has been for centuries, the session. These informal music gatherings, where any and all can gather to play traditional tunes, have kept Irish music a social form at a time when most other folk styles exist almost exclusively on the professional concert stage, or in the privacy of people's homes. The Irish even have a word for the special fun of people sharing music together, craic.
More successfully than any band working today, Danú has transferred the unique social energy and convivial passion, the lively craic, of the session to the concert stage. Their wild spontaneity and breathtaking musical power have made them arguably the most in-demand touring band to emerge from Ireland in the past decade. The Boston Globe says "Danú is the Next Big Thing in Celtic music."
---
---