Cross Cultural Music, Song & Dance on the banks of the Bann.
Cruinniú
The band Cruinniú (meaning " Gathering ") was formed in the year 2005. Its members are indeed a gathering, or coming together, as they are from the four corners of the country.
The band formed with the intention of traveling to the Inter Celtic festival in L'Orient. They were invited to perform at various concerts at the festival over the course of ten days, and due to the success of their performances, they have since got many offers of other festivals, both in Ireland and abroad. The band are planning to record an album during the year.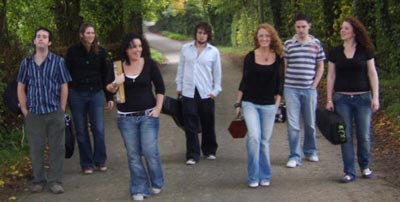 The band members are:
Jack Talty( piano and concertina)
Ryan Graham (guitar),
Damien O'Reilly (accordion),
Áine Bird (fiddle/backing vocals),
AnneMarie Grogan (flute/backing vocals),
Caitlín Nic Gabhann (concertina/backing vocals),
Siobhán O'Donnell (bodhrán/vocals)
---
---