Cross Cultural Music, Song & Dance on the banks of the Bann.
Colm & Siobhán O'Donnell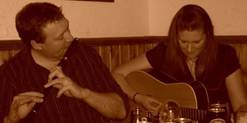 Colm and Siobhán are a father-daughter duet, hailing from a South Sligo area steeped in traditional music. Colm plays a wide variety of instruments: flute, whistle, fiddle, saxophone… and is also a well established traditional singer. He holds a record number of all-Ireland titles, and has been described as one of the greatest traditional singers of our time. Colm has released a number of very successful albums, including a country/folk album with some original compositions. He has toured with CCE throughout the world and is a founding member of the lively Irish traditional band "The Border Collies" which Siobhán is also a member.
Siobhán, a multi-instrumentalist plays Bodhran, fiddle, guitar and is a very talented vocalist and also the holder of many all-Ireland titles. Siobhán has toured the world extensively with a number of traditional bands and Irish dance shows and is currently promoting her new band "The Spinning Jennys". She has performed at the festival on a number of occasions, both as a session musician and more notability a member of the young traditional band "Cruinniu", who played a fantastic set at the main festival gig in 2007. The atmosphere created when father and daughter share the stage is like no other ... a great performance filled with music, song, stories and even dance!!
---
---