Cross Cultural Music, Song & Dance on the banks of the Bann.
4 Da Krak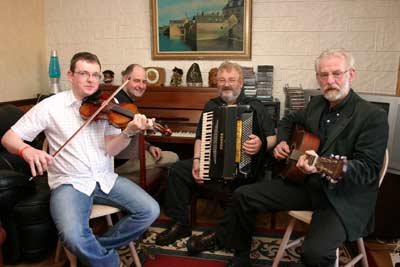 Swinging Fiddles were the youth - now we have the age !!
The Shetland Isles have a wealth of talented,respected musicians and composers to draw from and this quartet was formed recently from a pool of musical friends.

Drewie Hawick
(Hohner Galino) piano accordian (has won the Willie Hunter Memorial Trophy for the second time recently with his composition of a Two Step written for his son & his partner - ''Ivan and Catherine of Railsbrough''
Jack Robertson
multi-instrumentalist on Guitar
They play a fairly diverse repertoire incorporating, Shetland, Scotland and Scandinavia - most of all they enjoy themselves both on and off stage!! They look forward to enjoying a weekend of sharing music, a beer or three, fishing, a trip on the Bann hopefully and making new friends Most of all they are just out for da craic
---
---